On Friday, a new publication was made available on the DfE website. These new publications always tend to be published on a Friday and so sit in my 'I'll get to it when I can' pile. However, I had been anticipating this particular one for a little while and it has a lot of excellent infographs produced by Oliver Caviglioli (@olivercavigliol) . As such I determined that I would read this particular offering by Tom Bennett (@tombennett71) over the weekend as soon as I could. I had also been considering changing the paradigm of behaviour management in my classroom since #PrimaryRocksLive and hearing the input from Paul Dix (@pivotalpaul) . More on that later.
I could not even begin to attempt to capture the whole of this comprehensive report in one blog and I would not do it justice. To read the excellent report (and I strongly suggest you do) then follow this link: https://www.gov.uk/government/publications/behaviour-in-schools
I will attempt to highlight some key messages and thoughts and enhance this with my own evidence and ideas:
1. The Way we Do Things Around Here
Early on, Bennett states – "The key task for a school leader is to create a culture – usefully defined as 'the way we do things around here' – that is understood and subscribed to by the whole school community." This is a vital part of making behaviour excellent in any school. The challenge here is that this is very dependent on the school leadership. If the school leadership do not set an example of how we expect things to be, always, then it will become more challenging for staff to enforce this in the classroom.
I have experienced this in both extremes. Fortuntaely I currently work at a school where there is very much an ethos of "this is our way, and we all will follow this way". What this does is not only instil a feeling working together to make behaviour work around the school but as teachers we become empowered to drive home these principles in the classroom. We remind children "this is not what we expect at our school" and suddenly they recognise this ethos will be expected by all. Of course some will naturally not conform, but the vast majority will, and this is the first step to ensuring excellent behaviour across a school.
2. Behaviour Focus must come from higher than Heads
Despite the importance of the previous point, it is important to note that Bennett states that actually, the way behaviour will improve across the country is for the focus and resources to come from higher than Headteachers. He says his suggestions "…are designed to stimulate change and improvement in the field of school leadership for behaviour." The Department for Education must make certain changes and provisions to make the biggest impact – which will have an impact on recruitment and retention (which in themselves are main focuses right now for the DfE).
The suggestions to the DfE can be found in the report on page 9-10 and are well worth a look and hopefully, as they commissioned the report, they will act on the advice.
3. Behaviour must be a priority for all
There are many pressures in education. Teachers, school leaders and other stakeholders in children's education will all have different priorities. For some it's developing the whole child. For others it is imparting as much knowledge as possible. Whatever an educator's core value and goal, behaviour from those involved in the classroom will have an impact. Thus, research and effort into how to develop better behaviour in the classroom is important, necessary even.
"Whatever one believes the aim of education to be, all of these are best realised in schools where good behaviour is the norm, and antisocial, selfish, or self-destructive behaviour is minimised."
All schools can take note of this. How do they address behaviour? Is there a robust, clear behaviour policy. Is there a valuable induction for new members of staff (not just teaching staff) so all understand "how we do things around here"? Who holds whole-school responsibility for behaviour, is there a Behaviour Lead? Is it necessary to have one person given the responsibility to plan and consider behaviour?
4. Is expecting good behaviour oppressive?
Fairly recently, I got caught into a brief discussion on Twitter. It happened when there was that uproar over (guess who…) the Michaela Academy deciding to recruit a 'detention director'. Now, I felt that this was unusual but as was pointed out – if this is how they ensure behaviour is kept excellent then so what? Some tried to argue that this clearly shows Michaela have behaviour issues in school. However, as Bennett points out, the best schools address behaviour and make plans to act on it when behaviour is very good so the fact they wanted to recruit a 'detention director' is no indicator of poor behaviour.
Going back to the discussion I got pulled into – there was one line in the job description someone pulled out, about expecting obedience in school. Someone had an issue with this and I asked "When would you not expect obedience in a school?" Of course I got all sorts of answers (including, when a member of staff asks a child to join them in a quiet stock room and when a member of staff says they cannot go to the toilet despite the fact they are desperate) but of course we are talking about obedience to school rules here. Some teachers seem to feel that saying we expect obedience to all rules is oppressive but, to be openly frank here, this is why we have behaviour problems in school. Expecting good behaviour is not oppressive, it is surely standard in any school.
5. Behaviour thrives in complacency
Behaviour strategies are easy to implement, they are harder to maintain. I have seen this in the microcosm of my own classroom. I am only teaching in my third year but I have seen how if a behaviour management strategy is not kept relentlessly on top of, then it's impact decreases dramatically. Think then how slippage can happen across a school. Another things I have noticed is how the effectiveness of some behaviour strategies decay naturally over time so keeping children on their toes is sometimes necessary.
Below if a diagram showing just *a few* elements of how behaviour can deteriorate in a school which can be found in Bennett's report:
(page 60 for the original image)
Thus, Bennett suggests all school leaders should take an audit on behaviour. Whilst self-auditing is a start, Bennett suggests the audit will be most effective when done cross-schools. If leaders look at all this practice-changing information and say, as Bennett suggested 'they already do that…' then they will miss out on improving the already-good behaviour system they have. The work has to be done when things are going well or not.
So now what?
Well, for me I knew I had to change. I was unfortunate to not go to #PrimaryRocksLive but I followed on the hashtag for quite a while and it was clear that Paul Dix's presentation on behaviour was a shining highlight.
For me, the concept of faming good behaviour rather than shaming poor behaviour rung true. I and, from the reaction I read, many other practitioners do not fame good behaviour enough. So I took this on board, and magpied an excellent assembly idea from the influential Chris Dyson (@chrisdysonHT) who took the 'Best Seats in the House' concept from Ant and Dec's Saturday Night Takeaway. Simply, the children win the 'best seats' through behaviour above and beyond what we expect. I applied this to my own classroom: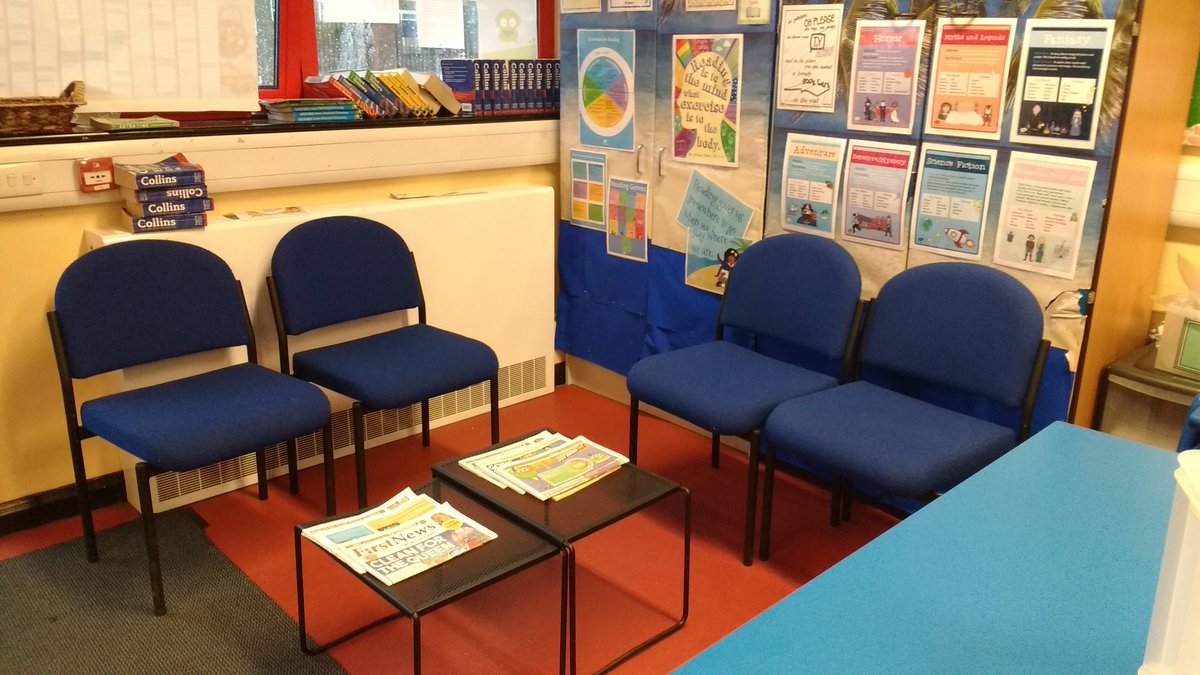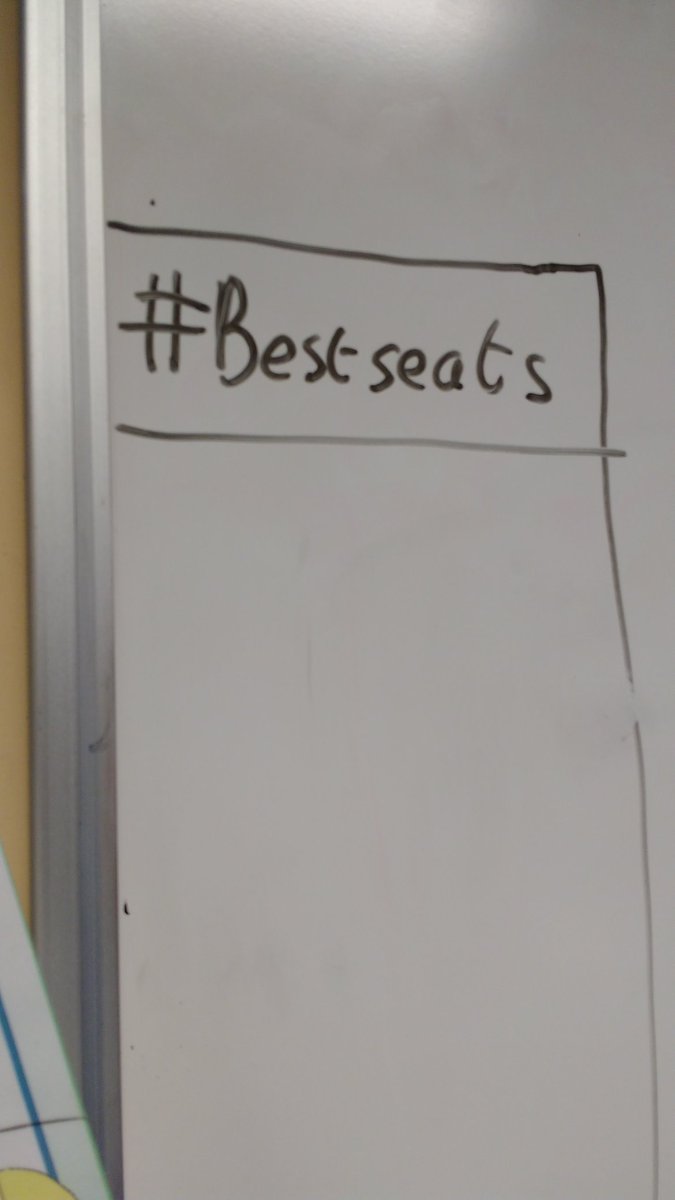 This has already evolved since Monday and now the children love it – the children chosen from the previous day get to do their learning in the best seats, they get a little reward (of a chocolatey nature) and they get to leave the class first for break, lunch and end of day. Most importantly, they are announced in the class and their behaviour is famed.
If a child wins it one day then shows above and beyond behaviour to win it the next day? So what?? They win it two days in a row. That blew some of my kid's minds! How is that fair? I had questions – and I asked one back "Was their behaviour above and beyond yesterday again?" They have quickly learned only above and beyond will earn the exciting reward! Try it out and improve on what I've done – I'm sure there are better ways.