#PrimaryRocks is awesome! In a recent chat this question came up: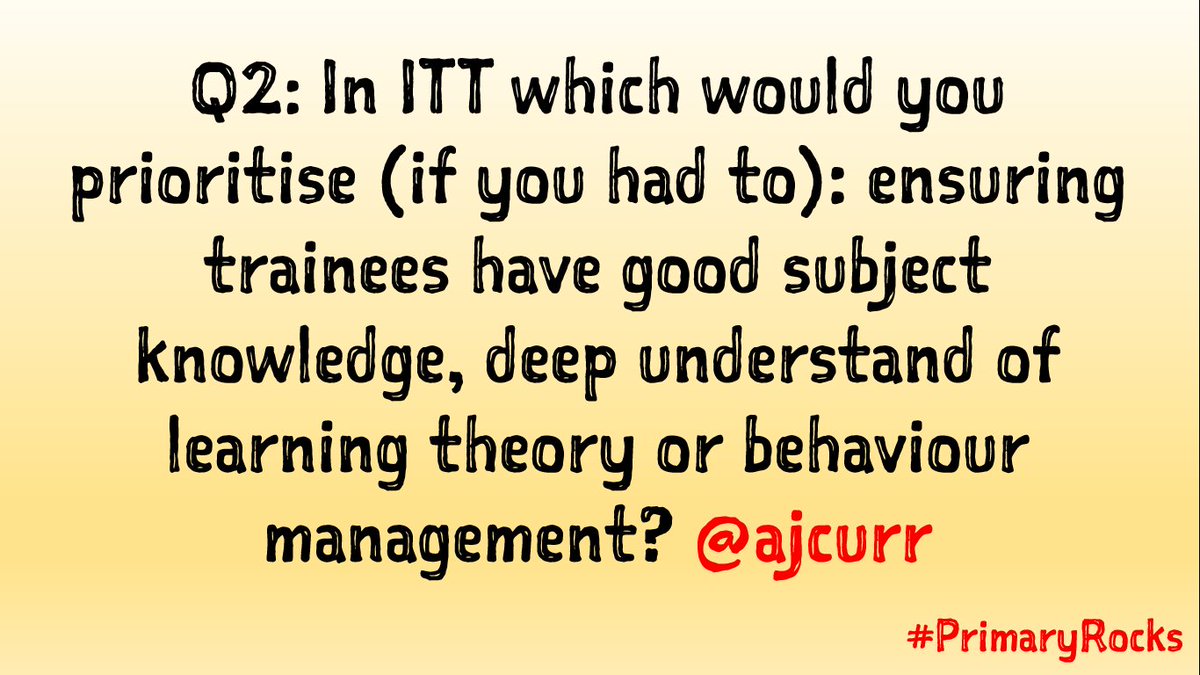 Now, having only qualified 2 1/2 ish years ago, I still have a number of fresh memories of my initial teacher training. I can honestly say I really enjoyed my teacher training – every part of it. The intriguing lectures, the enlightening discussions and the exhilarating teaching placements. Honestly, if I could be paid to do it more then I would. Sadly my time came to an end and I became an NQT officially in September 2014.
However, despite how much I loved it, there are areas that ITT can improve – like everywhere else. In the #PrimaryRocks discussion, we were asked if we were to be in charge of ITT, what would we prioritise out of these three: subject knowledge, learning theory or behaviour management? The discussion was very divisive and quite different from some questions which generate similar responses.. I was interested to look into this a bit further and so asked once and for all – what did teachers actually think?
These are the results. I added the 4th category. The reason being that I remember very clearly in my ITT having a number of sessions where we questioned practice regarding a number of areas, including working with children who have SEN, inclusion and working in EYFS.
Behaviour Management – 53%
So, behaviour management came out on top with half the votes. I think this surprised a few people but for me personally it was not. I wrote a previous post on this a couple of years ago. In my ITT (and yes, I know that not all ITT providers will be the same) I will let you guess how many sessions or discussion opportunities we had for developing our management of behaviour………no lower……………ok not that low though – we had 1. In 4 years of teacher training, one session focused on behaviour management. Ok, next question, what was discussed in this session? We were told that we would learn what we needed to about behaviour management in our teaching placements and we only needed to do one thing to ensure behaviour was not an issue in our classrooms – teach in an engaging manner. Now, I'm all for teaching and engaging the learners – it is an important part of learning to be engaging in your teaching (although maybe not the most important factor). However, being engaging will not prevent behaviour issues in a classroom. It just won't. If anyone really believes that then I question the classes they have taught. I know that may be bold but I think it is ludicrous to think that not ONE child will ever engage in low-level disruption if you are engaging all the time. As such, we were not instructed effectively about how to deal with behaviour management. I'll give you one more question (in this surprisingly engaging post so far) – what do you think was the main worry about before we started our first teaching placement? One guess… 😉
This is why if I were to vote, I would also go with Behaviour Management – not that I think it's necessarily the MOST important facet of teaching (although it has to be very high if not the most important), but I think it is the area that needs developing the most for how important it is.
Subject Knowledge – 26%
Subject knowledge came next with just over a quarter of the vote. This was a surprising one for me personally, I did not think this option would be selected as much as any other and I'll explain why in a moment.
What is important to recognise first is why subject knowledge is important. Playing Devil's Advocate somewhat, I challenged a suggestion made by someone else. They said that they could talk rubbish in front of their class but as long as the behaviour management was spot on, that wouldn't matter (as long as the rubbish was corrected). However, what is more damaging – teaching consistent incorrect knowledge with a perfectly behaved class or teaching exact, probing subject knowledge with some low-level disruption? I think we have to be careful not to underestimate the importance of exact subject knowledge. Misconceptions can creep in easily if not checked.
However, I was personally surprised by the percentage that subject knowledge received for three reasons:
All qualifies teachers (currently) have to complete an Entrance exam which proves their subject knowledge is effective to a point (yes admittedly this is only in English and Maths and does not ensure perfect subject knowledge)
Subject knowledge can be garnered far more easily independently than effective behaviour management or critically analysing and questioning practice can be done alone
An ITT provider cannot possibly impart all subject knowledge required for every phase and year group in Primary education – remember that there will be future teachers from Nursery/Reception all the way up to Year 5/6, not all the necessary subject knowledge can be covered
Learning Theory – 11% and Questioning Practice – 10%
Why was this lower than subject knowledge? Shouldn't the ability to convey learning and information in a variety of effective ways be more important than just knowing that knowledge. You could argue either way.
And I am honestly very surprised that questioning practice only received 10% of the vote. As teachers we should be questioning practice all the time. We have to consistently be questioning what we do and how to improve. No matter how good we have been told our standards are, we must be looking for ways to improve. We had a unit in my ITT about questioning practice and I found this very useful – it helped me become a much more reflective practitioner. I would not put it as the most important area to prioritise in ITT but I feel it is certainly an important part of being a good teacher.
What about you? What would you prioritise in ITT if you had that decision to make?