Hello all!! Here it is again – your fortnightly boost of Maths teaching ideas and suggestions! Everyone will be back at school by now – hope Summer 1 has had an excellent start! Here is this week's ideas:
1. Food Maths!
I love food! I love Maths. Check out this wonderful idea by @J0H00K and shared by @Mister_Hubbard:
Maths is everywhere around us. The children sometimes do not recognise this and just how much Maths has an impact on them – even the food they eat! It would be great to see any more Food Arrays or just #FoodMaths in general that you see. Here is mine:
2. KS2 teaching Early Years
A great entry from @grove_road was shared. They had a #mathsrocks day!! Exciting or what!?? Would love to hear what else they did that day! Anyway, they shared a wonderful idea where their KS2 children went to the Early Years to support the younger children in creating brilliant number lines.
What I love about the idea of older children teaching others is their depth of understanding MUST be on point. Some training will be required but when they then go to try and teach others with a weaker knowledge they will inevitably be asked questions – and they will need to answer. However, they will quickly learn they have to be clear with their explanations…
3. The Golden Cube Problem
We like to finish with a problem for you to try in the classroom. This one, shared by @Mroberts90Matt, is aimed mainly at Year 6's who are grasping the concept of volume. This gets them to think about the number of cubes in each layer, the actual volume and a practical context where the deconstruct a 3D object. That's enough from me – have a go yourself!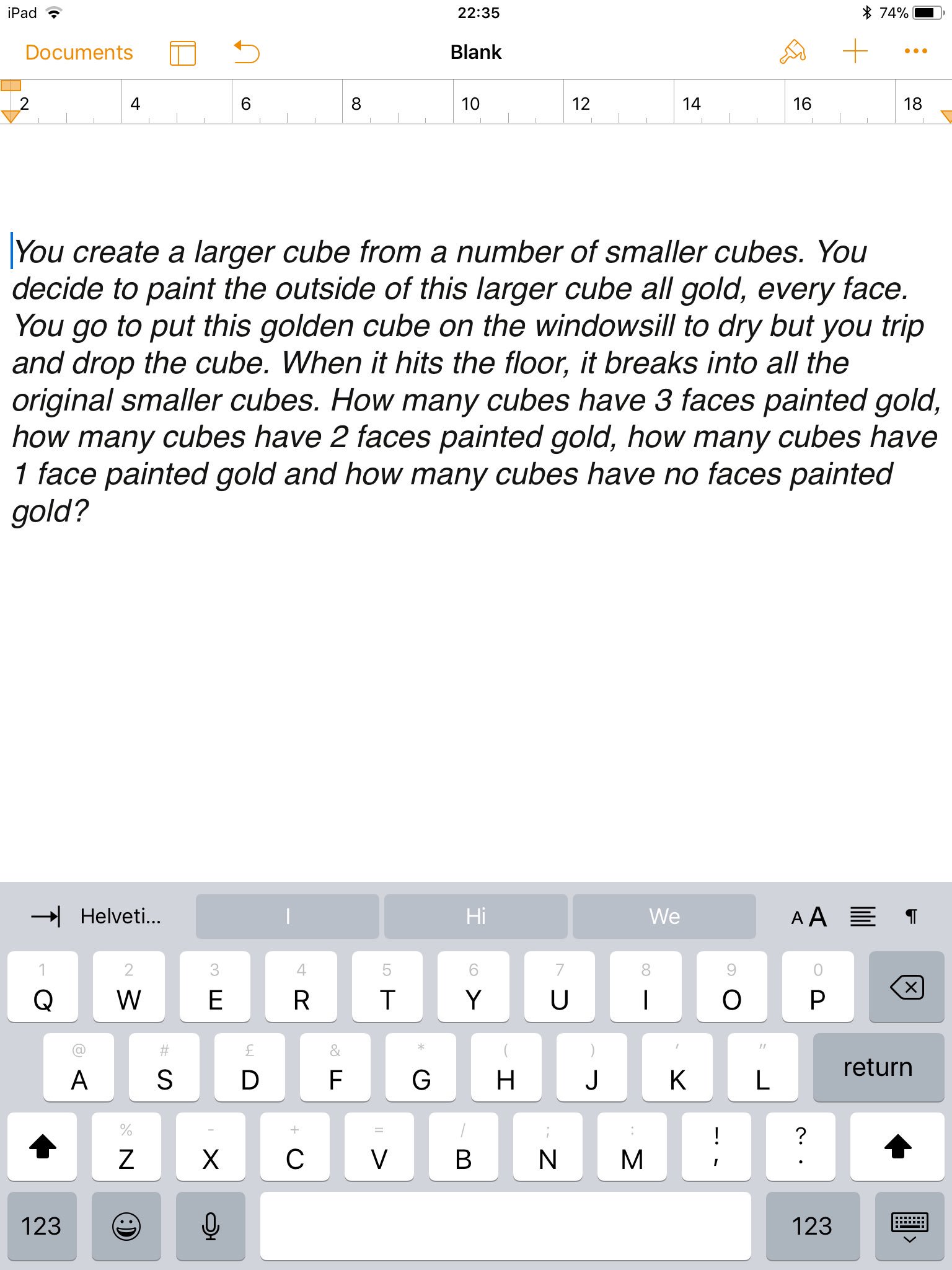 We hope you find at least one of these ideas or challenges useful – try them out! Even better, if you have another idea you have tried in your classroom, please share with the #MathsRocks hashtag so others can benefit!